Adrenal Fatigue and HPA Axis Dysfunction
The hypothalamic–pituitary–adrenal axis (HPA) is a part of our bodies' endocrine system. This is the mechanism that sends signals back and forth throughout the body when we secrete hormones. When we are exposed to stressful situations, the axis initiates a chain of events that inevitably results in the production of cortisol, an endocrine steroid hormone known as our "stress hormone."
Cortisol is known for putting our bodies into a "fight or flight" state, which inhibits some system functions while secreting an abundant amount of glucose.
You should know, however, that the HPA axis operates in a "feedback loop." If the hypothalamus and endocrine system detect that enough cortisol has been produced, they will close the axis to keep the system from flooding, allowing the body to return to normal.
When there is chronic stress, the HPA axis can become dysfunctional. This means that all hormones, the hypothalamic–pituitary–adrenal axis, will continue to be produced on a near-constant basis. In worst cases, if this issue is not addressed, the HPA region may lose its ability to recognize signals urging it to shut down. This is cause to aggravate adrenal fatigue/insufficiency.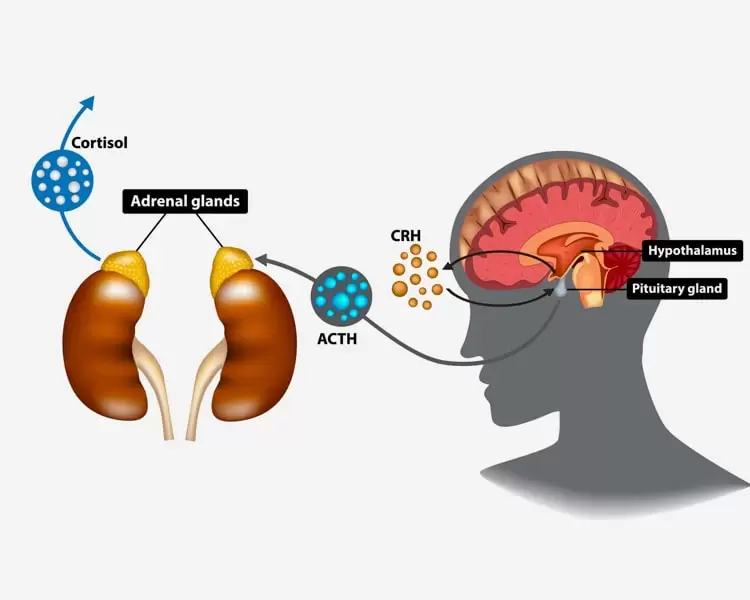 Adrenal Fatigue: How It Affects the Human Body
When the aforementioned occurs, we refer to it as "Adrenal Fatigue." This stress-related illness is quite common throughout the United States, and it has recently become one of the most prominent diagnoses in the Functional Medicine field. Althgough it is referred to as "Adrenal Fatigue", the adrenal glands are only a part of the problem. Attempts by doctors to cure the entire HPA axis is frequently subject to failure.
To make matters even more complicated, HPA dysfunction manifests itself in a wide range of symptoms that are difficult to define, including:
Fatigue
Trouble waking up
Insomnia
Thyroid disorders
Problems with blood pressure
Blood circulation issues
Immune-system illnesses
Blood sugar levels imbalances
Abdominal fat accumulation
Inability to cope with stress
Brain fog
Inflammation
Slow healing wounds
Dizziness
Parched skin
Salty foods cravings
Slow Libido
Muscle pain
Anxiety
Depression
Exhaustion is the most common symptom of adrenal fatigue, and it is difficult to overcome even with quality sleep. When all of the symptoms listed above are taken into consideration, it's easy to see how many people may mistakenly believe they suffer from different conditions rather than a single illness. In many cases, despite years of pain, the person may appear to be in good health.
The Stages of Adrenal Fatigue
Many of us underestimate the role of cortisol in our overall health. Too much of anything, too frequently, can not only disrupt our HPA axis but also cause cellular problems. When high levels of cortisol are combined with low levels of DHEA (Dehydroepiandrosterone is a hormone that the body naturally produces in the adrenal gland), a syndrome known as Chronic Stress Response develops. This occurs when our body's ability to tune a wide range of activities is compromised, resulting in serious metabolic, immunological, and hormonal issues.
Adrenal Fatigue, like many other illnesses, has multiple stages:

Stage 1
In the early stage of adrenal fatigue, cortisol levels rise while DHEA and its metabolites decline, resulting in an imbalance of testosterone and estrogen levels.

Stage 2
DHEA levels drop even further as a result of continuously elevated cortisol levels. Cortisol production eventually declines as well.

Stage 3
As the disease progresses, overall cortisol and DHEA release are lowered even further, and high amounts of ACTH (the hormone made by the pituitary gland) are substituted. The pituitary gland is lacking its ability to produce cortisol at this stage, which might bring the HPA axis to a halt.
Internal Healing and Wellness MD, Houston and their treatments
We help clients from The Woodlands, Spring, Conroe, and other Houston suburbs recognize and treat their Adrenal Fatigue at Internal Healing and Wellness MD. We can now diagnose the illness using basic saliva and urine testing, as well as monitoring the patient's neurotransmitters, thanks to contemporary technology. We can create a personalized therapy plan to restore HPA axis function, which will include herbal supplements, dietary adjustments, and stress management.
Book Your Consultation Today.
With a 60-minute initial consultation, our patients will have plenty of time to comprehend and understand their health conditions as well as their medical history. Gathering this vital information will help us in developing the lifestyle plans that are best suited to their routine.
Start Your Healing Journey
At Internal Healing and Wellness MD, in The Woodlands, the team of Functional Medicine doctors and digestive health experts, is dedicated to assisting you in your pursuit of health and physical wellness. Recognizing the progress you make and acknowledging your setbacks is essential in determining your course. Our main objective and primary responsibility is to provide the patient with proper guidance so that they can enjoy a satisfying and healthy life with the use of a mix of knowledge, therapy, and assistance.

A Fresh Start
Get in touch with us by making an appointment via phone or email. We will do our best to respond to your inquiries and concerns, and also to take the time to listen and collect information that will help us in determining additional ways to provide better service.

A Helping Hand
Our job here at Internal Healing and Wellness MD in The Woodlands, is to assist you! We believe that your journey should begin with a meticulous evaluation and analysis of different areas of your lifestyle, such as your habits, health, and social life. This assessment will not only allow us to identify likely causes of potential health problems, but it will also assist us in developing a plan suitable to you and your daily routine.

The Support You need
Our team of holistic doctors and Functional Medicine doctors is here to help you every step of the way, so that your focus, even if temporarily diverted, can be redirected to your progress. Accordingly, you will be able to grow and begin to achieve and reach your health and fitness goals. The most significant benefit is the optimization of your recovery and how it inspires a lifelong improvement in health conditions.
Happy Clients Say About Us
Spent 10 1/2 hours in the ER where my husband and I Contracted Covid. We were out of State and being treated like a herd of cows is 100% what
Read More we attributed the exposure to. Were able to reach Dr Khan who prescribed exactly what we needed. Anxious to start feeling better so we can head home. Dr Khan is always very attentive and very detailed. We are both in our late sixties and he is by far the best Doctor we have ever had. Would highly recommend him to anyone and everyone.

Gayle Maddux
7/26/2022

DR.Khan is incredible, Kind and caring Doctor. He takes time with the patient to Help them with their Health issues. Highly Recommend.

Nafeesa Saleem
7/17/2022

Dr Kahn is one of the most ethical caring doctors I have ever seen as a patient. I have been an RN for almost 40 years and have used and
Read More worked with many doctors. It is very rare to find one with a high degree of knowledge, who also has a high degree of integrity and compassion for his patients!

Sammie Rutledge
7/10/2022

Dr. Khan and his team are first rate. They have the patience's health as a top priority. I had a personal call from the doctor at 8pm!! He completed
Read More a complete health consultation and was able to prescribe medication that really worked!! 5 stars is not enough for this life changing team.

H Neddeau
5/17/2022

Dr. Khan is a wonderful doctor! He is kind, attentive, and truly cares about the wellbeing of his patients. Dr. Khan will dig into root causes and not just throw
Read More medication your direction - he's thorough, wholesome, and treats every patient with a unique approach. We all have bodies - but our bodies are all different. My family and I appreciate Dr. Khan and his knowledge so much! You can't go wrong with his practice.

Megan Bludau
5/17/2022

Dr. Khan is one of the best physicians I've ever encountered. His attention to detail and desire to truly help his patients is immediately evident in your first conversation with
Read More him. If you're looking for a doctor that really wants to help you get to the root of your issues and fix them, not just cover them up, see him! You will NOT be disappointed.

Cody Field
5/12/2022

I can't say enough great things about Dr Khan! He was so prompt, kind, professional, helpful, efficient and available. He changed the C*ovid game for my family and many friends.
Read More Instead of this illness being a time of stress, uncertainty and severe illness, it was a time of preparedness, efficiency and healing with minimal symptoms. He provided relief at the peak of delta for many families and I know, saved lives. I shared my experience with every person that got sick or had questions. It's hard to find knowledgeable and trustworthy providers these days, he by far surpasses that!

Angelynne Baugher
5/11/2022

This is the best doctor experience I have ever had. Functional medicine has changed my life. Thank you!

Activate Dev
5/08/2022

I have been going to Dr. Khan for several years. He has helped me through numerous difficulties with my health. He is all about finding the root cause
Read More of problems and not just about throwing pills at you which was really refreshing. I was diagnosed with RA last year and have been having a lot of pain in my shoulders and hips. He suggested a new treatment he has developed to open up the fascia. It is not very comfortable at first, but once he got done I was able to have full function of both shoulders (before I couldn't even lift my arms up past shoulder height) and my hip that kept locking up and felt like it was giving out was back to normal again. I would highly recommend him for any and all of your medical needs as he is 1 in a million!!!!

Kimberly Sere Richard
5/05/2022

Long Covid is no joke, and finding a local health care provider to listen with no political agenda and order the appropriate blood work and prescriptions tailored to my symptoms
Read More is still, after 2 years, non-existent in my area. But a concerned friend referred me to this practice over 1,500 miles from my home. A simple phone call led to a telephone consultation with Dr. Khan, who listened attentively to my 6 month struggle, asked questions and patiently verified my answers, and not once in our conversation did he make me feel rushed. He was able to locate a local lab to get my blood work done and find a pharmacy who would fill my prescriptions. He also recommended several natural supplements and even offered his discount to purchase them. After one month, my body is responding well to the treatment. My follow-up telephone appointment with Dr. Khan last week was as positive as the first, and I am grateful for his willingness to fill this need for so many of us that were left stranded without proper Covid treatment. He is an answer to prayer!

Karen Shoaf
5/03/2022

Dr. Khan is one of a kind! Overly caring, patient and knowledgeable, he really makes everyone feel like they are being listened to and in very good hands! His
Read More methods have been amazing clearing up all our families health thus far and we cannot wait to continue working with him, confusing to feel better and getting to be our healthiest selves! Highly recommend!

Put Your Health First
3/08/2022

Dr Khan is wonderful he is very intelligent he has given me hope and and he just very passionate about healing people I look forward to talking to him again

Ruth Ayala
1/17/2022
Questions?
In case you have any questions or queries regarding the services mentioned or if you require any further assistance, feel free to contact me or send me a message. Individualized medical, lifestyle, and exercise-based plans and advice are easily accessible for less than $5 per day. Your goal of achieving real, long-term results and living a healthy, regulated lifestyle is just a step away.
Start Your Wellness Journey Today
If you're in the Greater Houston area, including Spring, Conroe, Katy, Tomball, and The Woodlands, Dr. Khan and his staff are standing by to help you change your life and lifestyle today.
Get In Touch
We are here to help you feel happy and healthy again through our revolutionary healthcare model that's evidence-based, supportive and personalized to you.
Phone
281-475-7845

Email
info@ihawmd.com